One of the attractions of a 3D printer is all the money you can save with 3D printed Christmas presents. I mean who wouldn't want that collection of cute animal figures you've been printing. Never mind that it took sixty hours to print and that they could find better quality in the bargain bin of dollar general. It's the thought that counts and you were thinking of them when you were printing. You were doing that, weren't you?
Here was my plan in four easy steps:
Step one, pick the victim. I've used my printer to make present labels, ornaments and a few gifts. Still, I wanted this year to be different. Throughout the year my wife is frequently visited by hordes of Gnomes, rabbits, dragons and for Halloween, I made spiders. She's very good natured about it but I sensed that 3D printed Christmas presents wouldn't cut it. On the other hand, my mother in law is still enamored with the concept and made a perfect choice.
Step two, choose the design. I already knew what I wanted to do. There's a wonderful website https://lithophanemaker.com.  They will take your pictures and turn them into a lithopane. That's a sort of picture that is illuminated from behind and gives a 3D effect. The site allows you to make flat lithopanes, round lithopanes and my favorite a four panel lamp shade. Perfect, all I had to do was talk my mother in law out of four pictures.
Step three, print the design. 22 hours later I had her lamp shade printed. It looked great but needed a lamp to go with it. Maybe I could print a base for it. In fact, with a 3D printer, why limit myself to conventional?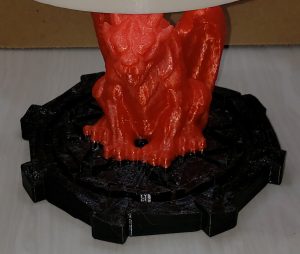 Those of you that decide to make one of your own, please let your imagination run wild. The gargoyle and base were selected because my mother in law loves gargoyles. I joined the two models together and put a hole through the gargoyle and base for the lamp support rod. As I write this, my mind is flooded with all the other choices I could have made but as it worked out, this was a good choice.
This was only a 16 hour print. I also wanted the base black and the gargoyle red so somewhere around 8 hours into the print I had to change filaments. Sorry, dear wife, now you know why my printer was beeping at 2am.
I still needed a way to support the lithopane on the lamp support rod. Realizing that someone would like a different view every once in a while, I created a support that the lamp shade could sit on and easily rotate.
Step four, try not to get distracted.  I failed here. Those of you involved with engineers realize we can't just make it simple. We tend to see the world as a series of improvement possibilities. Why make someone manually rotate the shade when it would be so simple to motorize the lithopane? In my own defense, I'm an electrical engineer not a mechanical engineer, but it seemed simple at the time.
Rotating the entire assembly was out because the wires would quickly twist up. Okay, I could have repurposed a wireless charger but I wanted it simple. All I really needed was a motor and some gears. Remember, electrical engineer.
Not to bore you with the details but my printer was fairly active for the next few days while I tested several design decisions. I had a working model when I started this post but in true engineering fashion, I wasn't happy with the saddle clamp being used to mount the motor and decided to redesign it.
The real strength of a 3D printer is the ability to quickly prototype and refine concepts. I lost several days on this but my final design is simple to assemble and uses no screws. I'm sure there are better ways but I'm pleased with the final product.
Time to see how much money I saved.
Lithopane – Free except for the plastic to print it. Let's call it $3
Motor – I ended up buying three different motors to get the speed I wanted. $16
Lamp – Six lamps $18
Lamp socket – Ten for $10
12v transformer with switch – I could have done this for 120V but decided 12V was safer. $18
Plastic Filament – call it 1.5 rolls of filament after all the prototyping. $40
For a grand sum of slightly over $100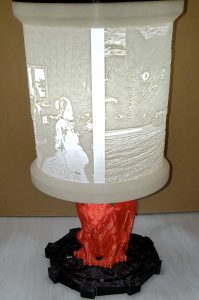 Hmm, more than I expected but now I have a finalized design and lots of spare parts. Future builds should cost less than $50 and I have lots of ideas. I will be putting all the part models on Thingiverse as well as creating detailed instructions with a bill of materials but for now consider how you would create your 3D printed Christmas presents.
PS: Those of you receiving this as an email will probably need to go to my site to see the video.
Opinion by pen