I admit it. Sometimes very logical conclusions completely escape me. I started Opinionbypen because I realized I was too isolated. At the time it never occurred to me that nobody cared. In order to people to take time out of their life and read my blog, they have to get something in return.
When I write about the things people care about, suoch as understanding what makes engineers tick, I have lots of readers. When I share my opinions, I might have one person accidentally read that post. It's nothing personal but let's face it, I'm not exactly mainstream. This also explains why so many of my posts go unread. Well, that and the other twenty million people vying for your attention.
Having finally come to terms with that fact of life, my New Year's resolution should be a more consistent approach in writing interesting articles. Unfortunately for you, I'll save that goal for my next post. Today we're closing out 2019 by following up bits and pieces of previous posts.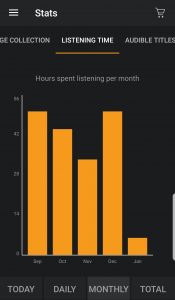 Audible: This year Audible informed me I had spent some 689 hours listening to books. Okay, not all of that was attentive listening. I'm convinced there were a few gaps caused by falling asleep while flying. Overall though, I discovered a few new (to me) worthwhile authors, I revisited a few old favorites and listened to a few authors that unwittingly provided great examples in poor writing. Throw in a few dinosaurs, a few historic references and it was a great year for Audible and me.
Email Spam: Earlier this year l announced a grand plan to track and eliminate spam in my email. I went from 80% spam to less than one percent. I was really impressed until I realized that all my spam was addressed to my EarthLink addresses. Cancelling EarthLink had a bigger effect than hiding behind a mail forwarding scheme. I never found out who was selling my addresses because I don't get any spam. Now I wonder if EarthLink was selling my addresses.
Backup Comparisons: When I wrote my comparison on Paragon, Acronis and AOMEI backup tools, one of the reasons I picked AOMEI was the lifetime updates. Two years later, AOMEI has released at least four updates, all free. Paragon has released one, I had to pay for that one and Acronis has a yearly release that I ignore. Acronis taught me to test and verify my backups and AOMEI has yet to fail me. The only real complaint I have is that it's not as vocal as I would like when it misses a scheduled backup. Maybe it's just me but I would like a full screen banner telling me it failed and asking me what I was going to do about it.
Several of you are probably wondering why I paid for an upgrade of Paragon if I was happy with AOMEI. I upgraded Paragon because I considered its disk editing utilities to be slightly better than AOMEI. I was pleasantly surprised to see they made several improvements in their user interface. Not enough for me to abandon AOMEI but certainly a step in the right direction.
My comparison of backup software also prompted someone asking me to review Minitool Partition Wizard. You'll notice you never saw that review. I don't mind reviewing software, even when it's free but it crashed the first time I tried it. I decided against writing a five line review.
More Software: Speaking of software, the holidays gave me time to upgrade and replace several major software packages. Yes, I finally gave into the pressure and "upgraded" to Windows 10. Start10 by Stardock Software made the transition a lot more palatable. It's not quite the same as Windows 7 but it helps.
I also ditched Chrome in favor of Vivaldi. Chrome was getting a little too pushy. To be perfectly honest, I'm starting to suspect Kaspersky was behind several of my problems but after a few rough spots, Vivaldi and I are doing well.
Kaspersky was the next to go. Not because it was Russian, I appreciated the no nonsense Russian approach, but it was becoming too American. It wanted me to purchase their VPN, it kept forcing my wife to make poor security choices because it couldn't cope with SSH and it wouldn't shut up about seldom used applications taking up space. After spending thirty minutes looking for a way to turn that notification off, I decided that researching a replacement security packages was easier. I was right.
BitDefender also wants to sell their VPN but they gave me a way to turn it off. Since changing, I've had several incidents that made me wonder why Kaspersky hadn't been giving me similar warnings. I really appreciate that it tells me every time it takes an action. I don't have to wonder why my latest program isn't working nor do I have to spend several hours looking for the right combination of permissions or workarounds to get it running.
3D Printed Christmas Presents: My Mother-in-Law loved her Christmas gift. There's no question that my MK3 Prusa printer was one of my better 2019 purchases. It's a great printer and I've finally acquired the right tools and skills to design my own fixtures.
That's my 2019 in review. How did yours go?
&copy Copyright 2020 Byron Seastrunk, All rights Reserved. Written For:
Opinion by pen