The idea behind a software review is to give an unbiased appraisal of the program. Unfortunately most reviews are anything but unbiased. As hard as I tried, this review is no exception. After my experiences last month, I decided to see what else was out there for backup software. Given my love hate relationship with Acronis I knew that I was going to have difficulties being fair about it.
Having blamed my recent recovery troubles on the differences between MBR and GPT boot formats, I used the ability to convert MBR to GPT and GPT to MBR to select candidates for my testing. Research led me to two candidates, Paragon Hard Disk Manager and AOMEI Backupper. Throw in my copy of Acronis 2018 and my evaluation was ready to start.
First, a short description of the computers I have to support. My wife and I each have our own Windows 7 system with approximately 2 TB of storage. I have a Windows 10 laptop with about 100 gb of storage and finally a Windows XP system with 1 TB of storage. Oops, almost forgot the Linux network server that I keep running but do almost nothing with. Because of my typical rural internet capability, cloud storage is out of the question. I either back up onto my network or use a dedicated hard drive.
That covered, I quickly built a spreadsheet containing all the essential features.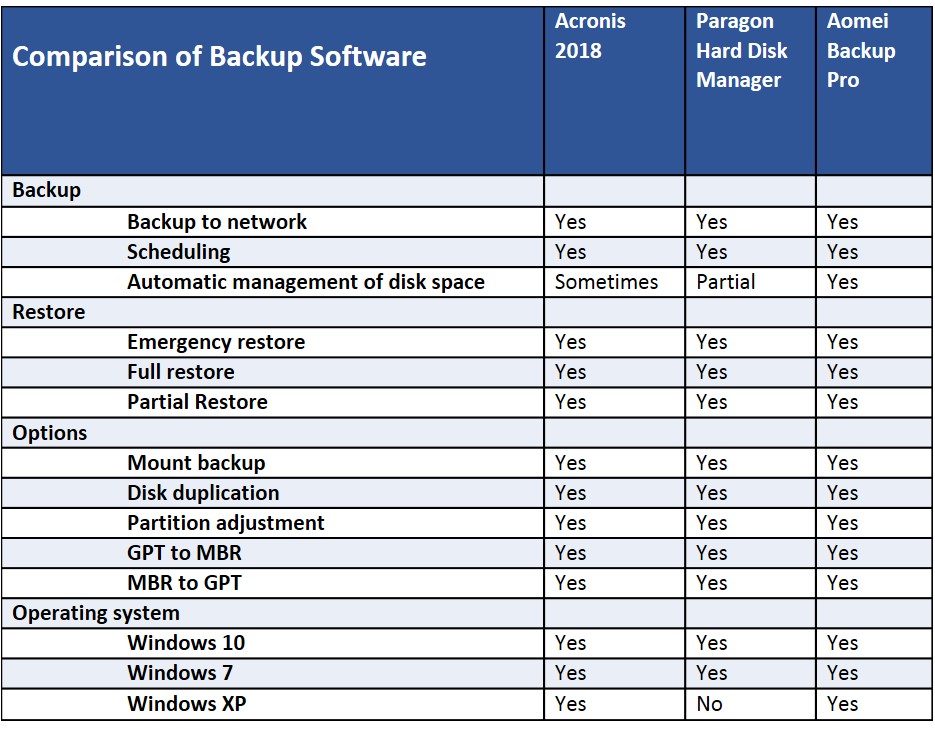 The last thing I expected was a tie, making a spreadsheet always works. In this case all three packages meet my basic needs. Let's go just a bit deeper into each package.
Acronis True Image 2018
My experience with Acronics goes back to Windows XP. Over the years, they have both rescued me in my time of need and failed me in my darkest hours. They come out with a new version once a year and update it frequently as they discover bugs. I don't keep track but I have seen them update versions that had already been replaced by the next year's version. My biggest complaint is they keep adding and removing features. Often without thorough testing of the new features.
The menu system changes every year, leading to some very frustrating moments when I look for a feature that was in last year's version. I've purchased both 2017 and 2018 and yet still find myself using 2015. 2017 had a bug with their new feature to backup your phone, it was using 50% of my CPU with no way to turn it off. The 2018 version has a new ransomware feature. You can turn it off but you can't turn off the icon telling you it's turned off.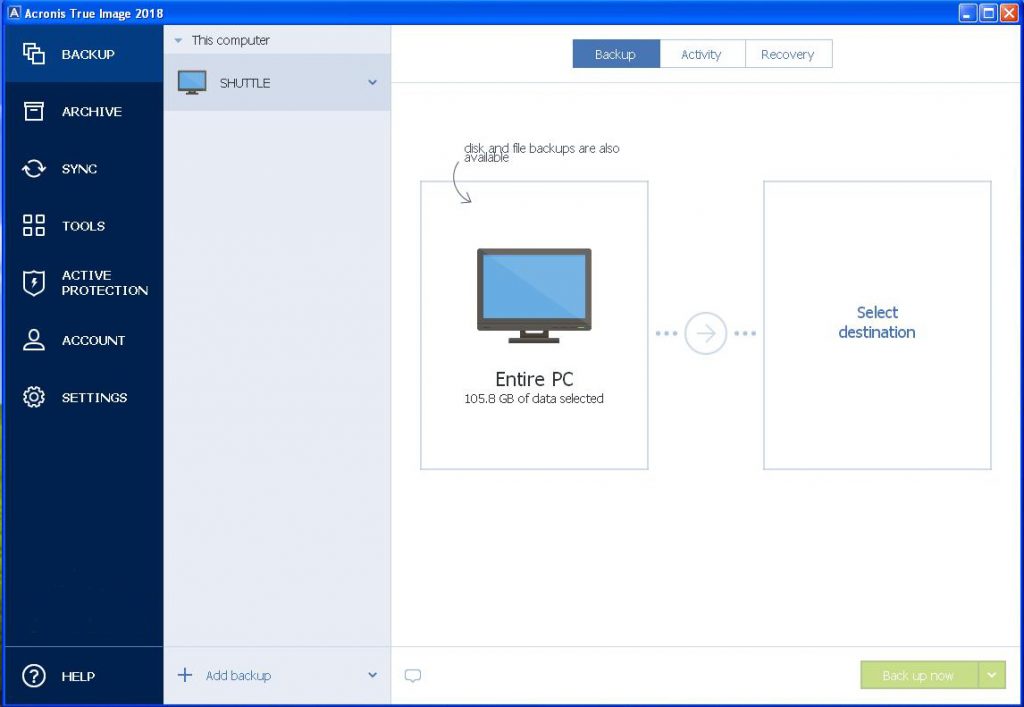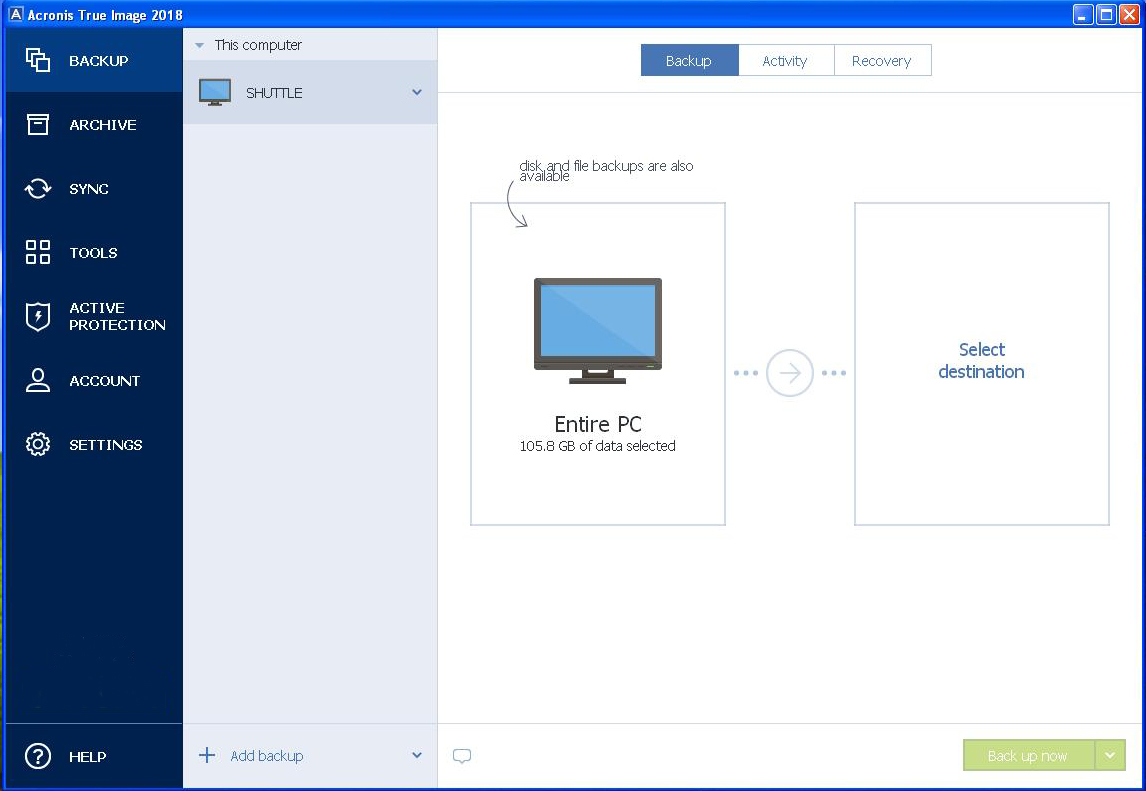 Don't get me wrong, I believe in ransomware protection but I have two other programs already vying for the privilege of guarding me against evil. Given their track record on new features, I'm not ready to turn that task over to Acronis. I know that somebody will tell me that Acronis patches their bugs frequently and they do but they do it from within their program. This isn't an issue unless you suffer from poor internet and it takes you twenty tries to successfully download an update. Yes, that's the voice of experience. There's a reason I use a dedicated program for downloads.
What I like about Acronis 2018 version is the try & decide feature. This allows you to install a program, spend an hour or so playing with the program and if you decide you don't like the program, you can roll your system back to the install point. Works great, unless your new program causes a system crash.
As you might imagine, because I support so many computers, cost is important to me. Retail on Acronis 2018 is $49.99 for one computer. You can almost always find it for less if you watch Amazon or Newegg. I paid $29.99 for a three computer version and got a free copy of H&R Block Tax software.
Paragon Hard Disk Manager
Paragon is headquartered in Germany and I believe the user interface reflects that. I mention that because at first glance, I only had about a third of the capability advertised. Aside from the MBR to GPT capability, I had been intrigued by the ability to read and write individual sectors of my harddrive. Neither feature was apparent from the main menu.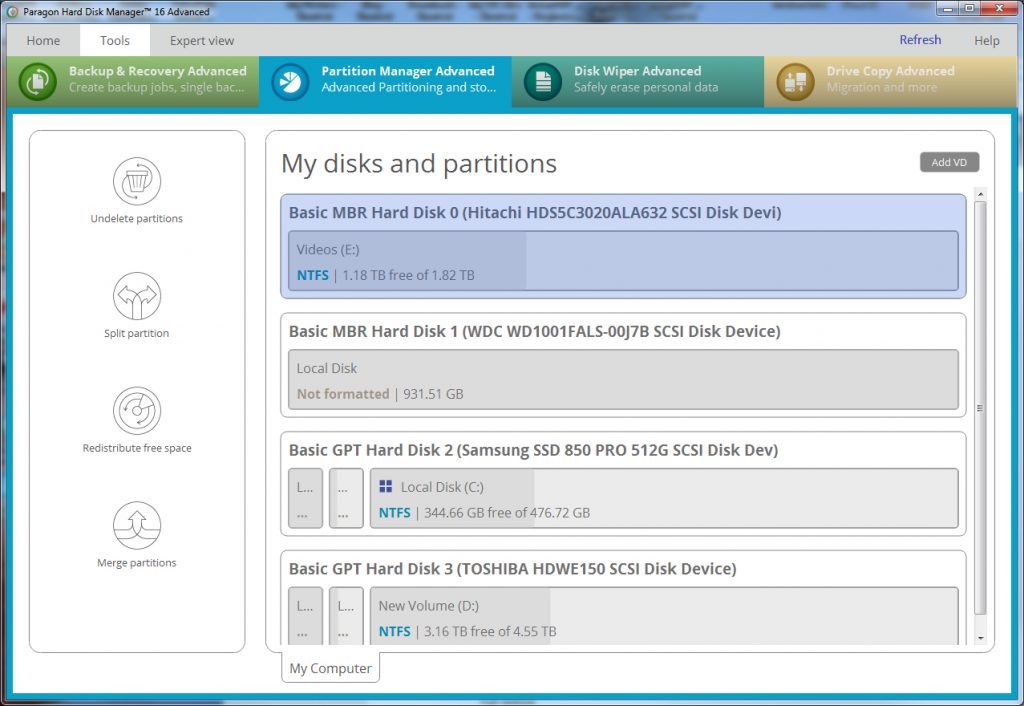 The answer turned out to be in a secondary contextual menu. If I selected the entire drive, I could access a secondary menu to change MBR to GPT and GPT to MBR. Given all the pain I went through last week because of this issue, I verified both functions worked. The results were anticlimactic. Paragon changed the boot format in less time than it took me to verify the format had changed.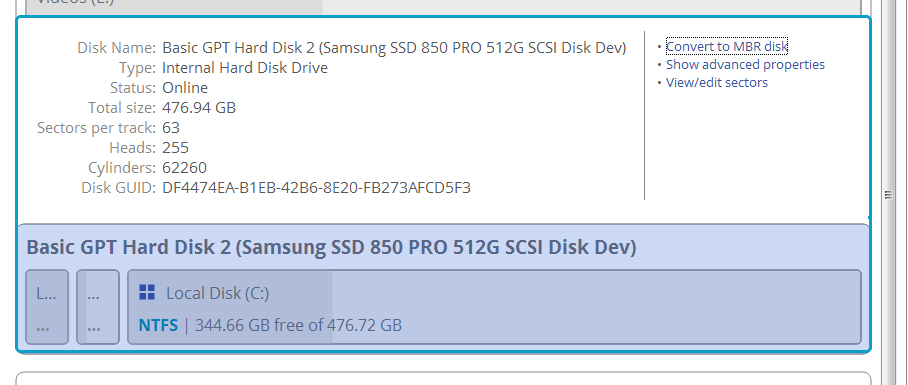 If I selected a single partition, the same secondary menu gave me the option to do a direct read on sectors. Once you get the idea that the secondary menu is based on your selection, the entire interface becomes very clear. Unfortunately, it took me twenty minutes to get this concept in my mind.
I did a couple of backups and restores to assure myself that all the basic functions were working. I split one of my hard drives into two partitions and joined them back. I wanted to say it was faster than Acronis or that the files it created were smaller but the difference in speed and size was negligible.
This is when I discovered that Paragon also offers a free version. This version doesn't do MRB to GPT, it doesn't read raw sectors, it doesn't create partitions in drives but it does do all your basic backup functions.
There is a catch, you have to create an account with Paragon. Before you can use the program, you also have to verify your email address. I don't like creating accounts but free is free.
All things considered, I liked Paragon but ran into a few minor issues. I was disappointed but not surprised to find it doesn't support XP. For most of you that shouldn't be a problem. The other issue was more of a concern. While I was testing the software, Paragon released an update. I had other things on my mind and clicked the skip this version button. Once I was ready to update, I started looking for a menu option to check for updates. Nothing, I don't know if I missed it or it simply didn't exist but I do have to consider it a possible problem.
Retail for the entire package is $79. If you Google Paragon coupons you can probably get it for less. I paid $59 for a two machine license.
Aomei Backupper
Let me just say I automatically subtracted five points for the name. Unlike the other two, AOMEI has split the backup function from the partition modification function. If you want to modify your partitions or to convert from MBR to GPT, you need Partition Assistant. If you want to backup, restore and copy disks, you want Backupper.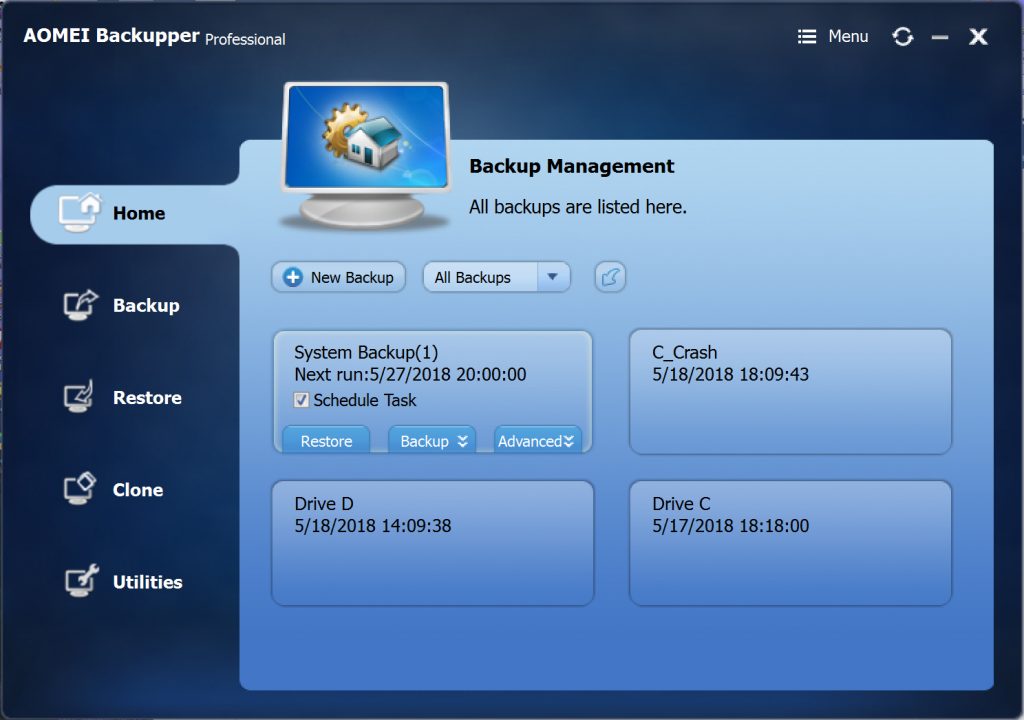 AOMEI is a Chinese company but the text used in the menu and help screens displays very understandable English. Unlike Paragon, the menu system used by Aomei is very straightforward. Speed and file size during backup are comparable to Acronis and Paragon but they do offer you an adjustment on speed versus compression size.
AOMEI also offers a stripped down version of their backup software for free. You don't even have to set up an account. The free version does almost everything you want unless you happen to feel you need all the bells and whistles.
In my testing it did everything I wanted from backup software, including operate with Windows XP. Because it represents two programs, pricing is a little more complicated. When I Googled AOMEI coupons, I found several package deals, with and without lifetime updates. I ended up paying $59 for both programs, for two machines and lifetime updates. Yes, I've bought other programs with lifetime updates only to have the company change its name the next day but I usually come out ahead.
Conclusion
At this point, I own copies of Acronis True Image 2018, Paragon Hard Disk Manager Advanced and AOMEI Backupper Pro/ Partition Assistant Pro. I'm leaning toward installing AOMEI on my main computer and my wife's computer and using the free versions for the other computers. I liked Paragon and will keep it for those advanced features I need once a year but AOMEI is just a shade easier to use.
I freely admit that there's just too much history between Acronis and me to be unbiased. For example, Acronis has a feature to synchronize all the computers in your account. Great idea but like their other features, you can't turn it off. Even with it residing on only one computer, it still had to phone home to see if I had other computers needing to be synchronized.
There was also the time my scheduler got stuck and I had to download a special program to reset the scheduler. They couldn't just put that option in the program?
I did have one case where neither Paragon or AOMEI were able to restore a drive on one of the two external SATA ports on my computer. This was really the fault of the motherboard and port drivers but Acronis was able to restore the drive by rebooting and operating under DOS. Despite that success, Acronis 2018 has been uninstalled and for the near future I'll be using AOMEI for my future backups. At least, until they let me down.
Afterword
During the writing of this review, I needed to retreive some files from the image of my crashed drive. To save room on my backup drive, I had moved my backup images to another drive. Double clicking on the Acronis image gave me full access to the files. Although I had to navigate a few menus, AOMEI made it almost as easy to retrieve the files. Paragon would not open the image until I moved it back to the original location. Equally frustrating were the number of menu options that almost got me there. When your system has crashed, the last thing you want to do is try to find the right combination of menus and locations that will allow you to restore critical files.
&copy Copyright 2018 Byron Seastrunk, All rights Reserved. Written For:
Opinion by pen