Having found no reviews on the HiBoost 4K LCD phone signal booster and being prevented from posting one on Amazon I decided to write a review myself. I bought mine from Amazon on October 19, 2018 and was impressed by the performance. I live in a rural area and was only getting one bar on my phone. The HiBoost 4K LCD booster immediately gave me five bars. This was my third cell phone booster over the last five years. It was by far the easiest to install and gave the best performance.
Before buying the HiBoost 4K LCD booster, I was extremely concerned about the lack of reviews. Having experienced the performance gain myself, I decided to leave a very positive review.  That's when I found out why there's no reviews on Amazon, Amazon has blocked reviews for this product.
There's no question that Amazon has transformed my life. I'm an Amazon Prime member, I subscribe to Audible, I even have a subscription to Prime Pantry. I don't even have to tell you it's been years since I last bought a paperback. The thing about Amazon is that they've made shopping easy. I don't have to deal with sales clerks that would rather be anywhere else.  I don't have to wonder why I'm being told that gold plated connectors are absolutely necessary to reduce third order harmonics at 20kHz and really the increase in sound quality is worth the 2X price. Yeah, about the only thing it does it improve is the salesman's commission.
Want to know about a product? All I have to do is read the reviews. Sure, there are a lot of products with fake reviews but Amazon tries to stay on top of them. And really, do you need someone to tell you that those 215 reviews, all placed the same day and all giving a five for the best product ever, are fake? There are also the fake bad reviews. Well, either that or some of Amazon's customers need a crash course on expectations.  If you pay $19.95 for a camera, giving it a bad rating because the picture is not as good as your $700 phone, says a lot more about you than the camera.
Here's where it gets tricky though. Don't like your competition? Hire someone one to flood his product page with fake reviews praising his product.  That's right praise. When Amazon catches it, and they will, they pull all the reviews and your competitor will have to argue with Amazon on getting their page restored.
You're also not allowed to pay for positive reviews and this may be where HiBoost caused problems for themselves. Several days after I received my booster, I received a rebate offer if I would write an Amazon review and send them the link. I had already decided to write the review but I don't pass up free money (For the record, I'm not being paid for this review, nor do I expect to be).
Let's start with the basics. As I said earlier, this was my third cell phone booster in the last five years. My first was a Wilson Cellular Signal booster. I liked it enough that I wrote a review on it but when I switched from Sprint to Verizon, it was no longer boosting.
My second booster was a zBoost ZB575-V. It had great reviews but there were warnings about how difficult it was to get it set up. With my typical technical arrogance, I decided those problems only applied to other people. That was a major mistake. I never could get a stable installation. It might work for hours or days but sooner or later it would start flashing to tell me the inside and outside antennas were too close.  I'm not sure when it actually died because I'd given up on it. My wife had to go outside to have a conversation.
About the time that Roadrunner stopped providing my DSL service and AT&T took over, my Internet experience dropped from poor to horrible. Hot spotting my phone gave me better performance but because of my poor cell phone reception I was still seeing less than 3 Mbps from my hot spot connection. That's when I decided I needed to make a change and bought the HiBoost 4K LCD phone signal booster.
The booster is provided in three parts, an outdoor antenna, an inside antenna and the signal amplifier. Although the two antennas have plastic enclosures, the amplifier is a very solid metal case. Even better, at least for an engineer, it has an LCD readout that gives me exact numbers rather than a light that says it's working.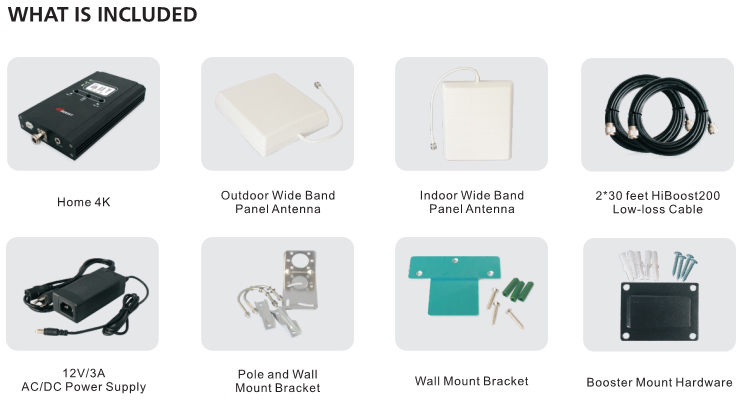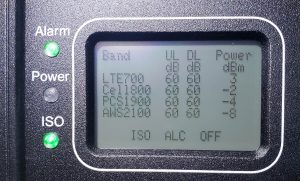 Why is a digital display important? Part of the installation is to orient the antenna to the best reception. A light only gives me an approximate indication at best and is worthless when I'm trying to find an optimal position for several frequencies. A digital readout though, now you're talking.
Installation was easy. No height separation restrictions, no separation restrictions at all. I was able to mount the indoor antenna high enough to give me full coverage in my living room and kitchen. Aligning the outdoor antenna was as simple as rotating the antenna while watching the readout and then securing it in place once I found the right position.
What did I get for my investment? I would have been disappointed with anything less than five bars. Sure enough, I had five bars but I also had a consistent download speed of almost 20 Mbps. I felt like I had joined the 21st century. Too bad Verizon's Unlimited is anything but unlimited, I would have cancelled my AT&T DSL that day.
---
Positives:
Digital readout
Easy to install
Excellent performance
---
Negatives:
Your wife will hate the enclosure
Expensive
---
Final words:
I really like the performance of my HiBoost 4K LCD phone signal booster. Unfortunately, as I was taking pictures for this article, I noticed that the power light was off. This hasn't affected its operation and all the other lights are green. When I recycled power, I noticed it also has a red state. Unless the power light is indicative of poor assembly quality, I think I'll ignore the lack of a green power indicator. Well, I could return it for warranty but for a defective power LED?
© 2019, Byron Seastrunk. All rights reserved.