In the design and maintenance of Opinionbypen.com, there are two guiding principles I always consider.
When it comes to technology, resisting change is the best way to become forgotten. Then again maybe you're still using a rotary telephone as you watch your VHS tapes on that black and white television. Whether you're a gadget or a website, change is essential to your survival.
Hobbies always need new blood. Like organizations, once the rate of people leaving a hobby exceeds the number of people entering, the hobby is doomed. The best way to ensure the survival of a hobby is to get new people involved and show them understand why you love your hobby. Enthusiasm tends to be infectious. If your hobby is collecting tin foil, well, maybe it's best to let that one die, but if your hobby is blogging, involving more people means seeing different views of the world and that's what blogging is all about anyway.
I spend a lot of time enhancing my home page because it's the grand entry point where I entice you to read my stories, appreciate my Poser pictures and tour Fromthedoghouse, where you can enjoy pictures of the dogs that visit us. I even put a small joke on my home page (try pressing the TEST button). Sadly, most of you never visit my home page. That makes the people that take the time to explore my front page are special because I've shown them everything I have and by their visits, I use the data to influence what stays, what goes and what gets added.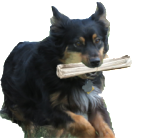 This is the reason I no longer have a News section, nobody visited it and I cut it from my website. In the last two years, nobody has read any of my stories. They visit the page but never select any of the stories to read. This also explains why I haven't posted any stories in the last two years. I know It's not the fault of the stories because nobody is reading them. Visitors get as far as the index and leave. Before I give up entirely on that section, I need to improve the way the stories are presented (suggestions welcome).
So, armed with this data, how do I improve Opinionbypen? I considered my options. Sundae is always willing to help but given her short attention span, I believe she has only completed two posts in her own blog, Sundae's Journal. It didn't help that my wife kept interrupting my musing by demanding I do productive like building more flowerbeds and digging holes for her roses. Here's where I admit I don't know a rose from a peony but we always have lots of beautiful flowers, whatever they are.
This comes in useful when I have to deal with non-technical people at work. I use pictures of those flowers to convince the people that I don't spend all my time doing integrals in my head. Fact is, I do integrals in my head almost as well as I remember the names of flowers but introduce people to a simple statistical curve and they get all kinds of strange ideas about you.
I've learned that people also start to suspect something if you keep showing them the same ten pictures all the time. Adding insult to injury, when I spiked my pictures with a few taken by my wife, people always commented on how beautiful her's were. I can't be too upset, I already discussed that point in an earlier post but it still stings.
I know you've already come up with the answer to my problem. Unfortunately, I wasn't nearly as fast. Yep, all I needed to do was provide a framework for my wife to post her pictures on my blog and convince her it was a good idea. More visitors, wider variety of topics and she does all the work keeping it updated. I'm expecting my nomination to the Conniving Husbands Hall of Fame any time now.
Please take the time to explore the latest addition to the Opinionbypen website, NaturebyCarol.com. Remember, your visits will inspire her to post more pictures. If no one visits, the site will die a lonely death. Sad but true. Feel free to leave comments and questions for her. If you happen to be shy, send your comments to BigTomato@NaturebyCarol.com. She'll appreciate your comments just as much.

© 2018 – 2019, Byron Seastrunk. All rights reserved.